vet, veterinary, vet in jerusalem, veterinary clinic jerusalem, veterinary clinic maale adomim, veterinary clinic maale adumim, vets, aminal doctor, veterinary hospital, veterinary center, veterinary medical center,veterinary treatmnet, vet in modiin, veterinary clinic in modiin, veterinary hospital modiin,vet in mevaseret zion,



uyrhbr chruakho
veterinary jerusalem
veterinary clinic jerusalem


---



Kiryat yovel clinic
61 Borohov st' Jerusalem

72 Moshe Dayan Bld Jerusalem
02-6310789

02-5838667
Pisgat zeev clinic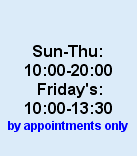 Kiryat Yovel
vet-Clinic
Kiryat Yovel
vet-Clinic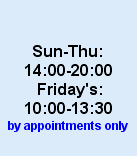 Pisgat Zeev
vet-Clinic
Pisgat Zeev
vet-Clinic



- Veterinary Clinics

- Veterinary Clinics

Alfa-vet
Alfa-vet
Our medical team is ready to provide our client's emergency medical assistance 24h a day including nights and weekend's.
For this purpose we have a veterinary doctor on call.
The vet on-call will take your call at any hour and will try to give assistance on the phone. When needed the vet on call will arrive to the on-call clinic and provide live saving medical treatment
The on-call doctor will answer the emergency hot line when ever the clinic is closed and can't provide service.
*
All medical services will be provided at emergency rates.

Phone nr. for the Vet
on-call in case of emergency
052-6234838


Bleeding: any kind of bleeding, cut's, wound's, urine bleeding, etc
Ataxia: when ever your pet cant walk strait or cant keep her balance, walking in circles
Seizures: of any kind or any duration, involuntary movement, cramps
Respiratory distress: any change in normal breathing
Vomiting: in case your pet vomited more then a few times
Diarrhea: in case of sudden diarrhea multiple times
Weakness: sudden weakness, loss of consciousness or fainting
Pain: sudden onset of limping or lameness, any trauma, high altitude fall, open fractures
Any hit by car: even if the pet seems fine
Bites or stings: must see a vet even if the pet seems to be ok
Dog or cat bites or scratches: in case the wound profound and you can't stop the bleeding
Ingestion of poison: any suspicion that you're pet has ingested a poison. Do not waste time and get help as soon as possible

Any other problem that might worry the pet's owner




When do you call the vet on-call?
052-6234838
Alfavet pisga
medical veterinary center
in pisgat zeev,Dr Bualata Adrian provides all medical services for pets dog and cats.oparating room,prescription diets,vaccins,electronic chip,
24h vet on call
phone service.alfavet yovei
veterinary clinic
in kiryat yovel provides advanced medical services,x ray, digital x ray, ultrasound,lab work, safe anesthesia for senior dogs and cats

*אין לראות באמור בדף זה כל התחייבות מצד הנהלת המרכזים הוטרינרים לקבלה ולטיפול במקרה חרום כלשהו בשעה כלשהי.ההחלטה על קבלה לטיפול רפואי תתבצע ע"פ שיקוליי הוטרינר התורן בלבד.רק במידת האפשר בלבד ינתן שרות גם למקרים אשר אינם לקחות המרפאות
---






Emergency vet
All Content Copyright ©2010 www.Alfavet.co.il (Dr.Bulata Adrian) All Rights Reserved